PK: The Biasly - unbiased Movie and the Mature Judgement of Supreme Court
What went wrong in this case and who is to blame? Is it society or laws or Communal People or Pesudo/Secular people of India or the Movie PK? what did make peaceful people of india awakening for raising this issue?
I saw PK with my office staff and colleague on second day of release, I must say honestly, we enjoyed the movie, It was fine piece of art, acting of Amirkhan was once again superb, nothing was there which reminds the teribility of "Happy New Year" of SRK, most of things are perfect I will give 9.5 out of 10 as Movie. PK was made for fun and entertainment and a message.
but one and only thing comes in my mind that message that was being sent was meant for whom? to society, citizens of india or to single community or one particular region?

Let me explain you, Aamir showned there 4 religions in begining of movie, First ofcourse a Hindu, Second Chirstian, then Islaam, and Shikhs. So now if someone want to send message about wrong numbers of religious belief, are there any chance that only one religion has the wrong beilief? 

or is it like only one religion's wrong numbers are meant to be showned?
So it was the issue, In one scene where
"Tapasvi baba"
  tells one from mob to travel to some temple in Himalaya to solve is problem, Aamir claims as Wrong Number, As his role of being Intelligent but innocent Alien we can assume that he knew that muslims also goes to Haj, apparently Amir is also muslim, and he follows islam just like any other muslim and I respect that.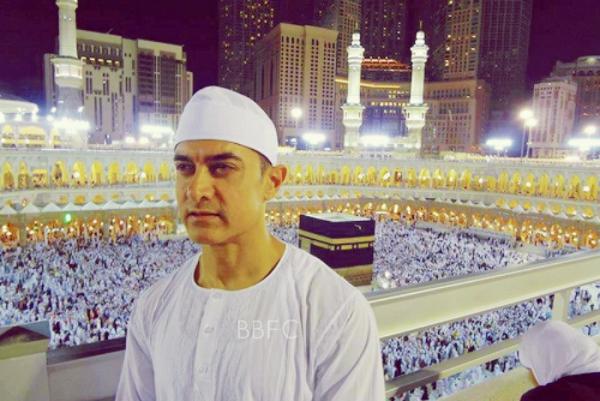 But what would I liked to know could he not mention that going to HAJJ  which infect 10 times far then himalaya's temple, could not he mention about same that going even on HAJJ is one kind of wrong number, ok consider the HAJJ is not wrong number what about Going to HAJJ on Subsidy? clearly Kuraan says if you want to go to HAJJ, you shall only do with your own earned money and if you dont have, Its fine Going to Hajj is not mandatory, Still many people goes to HAJJ  with Subsidy which is considered as HARAM in Islaam, was that not a wrong number?. Second Hitting your self hard with knifes, koyta's or any thing on name of religion where you could not save your "Hussain"  because you weren't there to save him, so you beat your self to bleeding to express your mistake (which in first place you didnt do it, because you were not borned either to present there), Aamir khan was shown in movie doing this "Maatam" by beating him self with knives.
Why didn't he mentioned about once?
Same we can point out in Chirtianity and Shikhs and Jainism, There is no point, because its related to their religious belief, and I dont have right to ask them why do you do this? I can't and I shall not ask any muslim why is he going to HAJJ or why is he doing 5 time Namazz.  Its his religion and he has right to follow it, no one shall send message that what he is doing is WRONG NUMBER even if it is or not, no matter if its right or wrong.
Our Supreme court also has shown this as Matter as rubbish and said average indian is mature enough to understand the same thing, But wait I will ask Honerable Supreme Court, where the hell were you when Kamal hasan's movie Vishwaroopam was released, where he showned the face of "Islamic Terrorism"  Why did Laws has not showned this maturity, where the hell was mature indian's understanding, why did they not said, If you dont like the movie dont go to watch.
Lets assume the Our Courts and laws are just got matured after PK is released, and nothing else. previously they weren't matured, now they are, So I will ask "KAMAL HASAN"  or any other Directors (I expect something from Anurag Kashyap Like his Black Friday was banned for like 3 years) please make such good movie where you expose something like "Islamic Terrorism"  or something else (Dont rush on me for using word "Islamic Terrorism"  As this is the same word used by all the news channels).

And I will wait for our honerable court's, Psuedo Secs, and News channel's Unbiased Reaction for same, nothing will trouble me if Our Courts says, Indian Citizen is mature enough to understand what is good or bad and what shall he choose to see.
My question is to you is will our laws will be biased in this situation? will they be mature enough to stick to their decision that they made in December 2014. or once again they will show the back. The issue is not the movie, nor the Wrong Number  but the mentality of Other people targeting Hindus Everytime, They did it before they did it now, and they will not stop, atleast Aamir khan could have given moral apology to public, that "even in mistake anything hurted to any one I would like to apologies."   Asking for apology is not sign of defeat, but its rather a sign of maturity.(I remember Sanjay leela Bhansali  asked for apologies for showing relations between Rabaari and Rajput comunity, which was infect not even a sensitive issue.
He did asked for apologies in news papers, press and social media. He was forced, I urge Aamirkhan to Volunteer, apologies and slap those who think you are the culprit. You are the Man, and show it to world that you have courage to apologies for the mistakes that you haven't commited, but to just avoid conflict you can be sport and take this stand.
I am your Fan Aaamir, and I will be.

Thats all Folks, I end my post here and leave it to Aaamir and Team if they could show something exceptional to this country of colours.
About the Author
Govind Prjapati has over 5 years of business experience developing database applications, software & websites; and has a natural gift for building easy-to-use systems that solve complex problems. His portfolio includes successful web programs for a wide range of companies:, Govind is a graduate of Mumbai University and lives in Mumbai with his family.
This email address is being protected from spambots. You need JavaScript enabled to view it.
blog comments powered by

Disqus